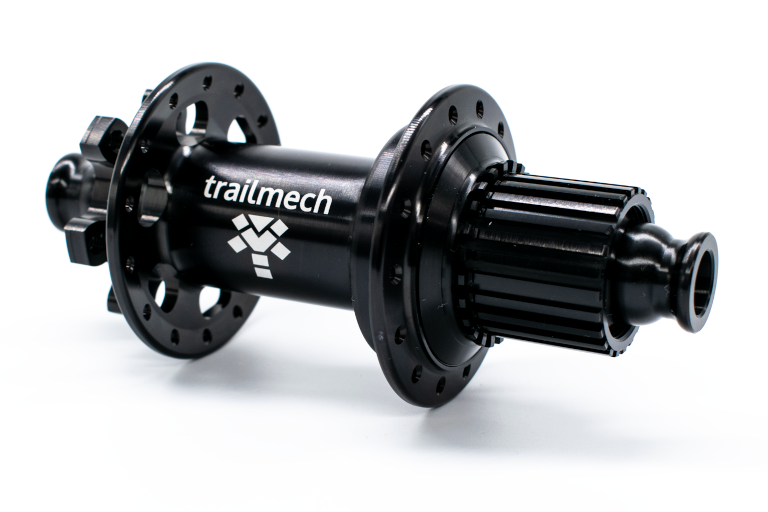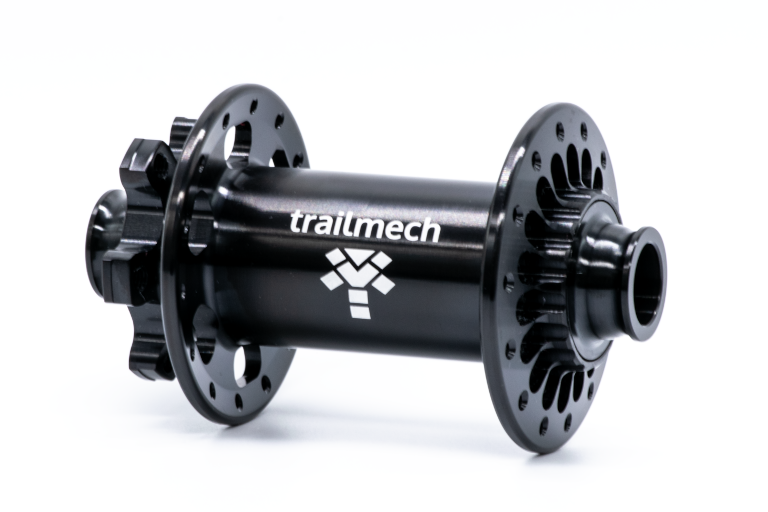 Competitive
Trailmech XCR is our latest development for competitive Cross-Country and Marathon cyclists. Available in Boost and Classic versions with the number of axle options.

XCR is the response to the question on how to balance low weight, strength, durability, and performance. We consider strength & durability as a single factor. Technically they are different, although both are important. Choosing any two out of the three above is neither a challenge nor an option. The true mountain bike hub's design challenge is how to optimize across all three dimensions.
---
Proven Design
XCR rear hub runs the proven 17 mm outer diameter (OD) internal hub axle. Axle's OD is a big deal. Consider the seemingly mere 2 mm, or 13%, increase in axle's diameter from the common 15 mm. It yields 84% gain in axle's capability to withstand deflection. One may think of it as the higher allowed "system's weight" or permitted load. Stiffness – one of a buzz word in cycling industry – has a genuine meaning in this context.
---
The Vortex System
The freewheel mechanism is our patented Vortex with 50 teeth. Or commonly referred to 50 points of engagement (POE). Follow to the Hub Engagement Designs Guide to learn more about Vortex and other systems. Classic flanges for broadly available J-bend spokes and ISO disk rotor mount. Depending on the width and freehub options, XCR rear hub weighs between 245 – 255 g. There are three types of freehubs available: SRAM XD, Shimano Micro Spline or Shimano HG MTB.
---
Distinctive Sound
Whether silence or a buzz is your personal preference, hub's sound is a design factor. XCR rear hub comes with that distinctive sound of a freewheeling Vortex. For those familiar with our rear XC model – the XCR hub' sound is somewhat muted. We believe that it offers a more comfortable ride in that sense.

Technical Data
---
Summary
Spokes : 28, 32
Spoke Type: J-Bend
Rotor Mount: ISO, 6 bolt
Vortex: 50T
Color: Black
Freehubs
Shimano HG MTB
SRAM XD-Commpatible
Shimano Micro Spline
Axles
Front
100xQR
100×12 Thru Axle
Boost 110×15 Thru Axle
Rear
142×12 Thru Axle
135×10 Thru Axle
135xQR
Boost 148×12 Thru Axle
Boost 141xQR